Tightrope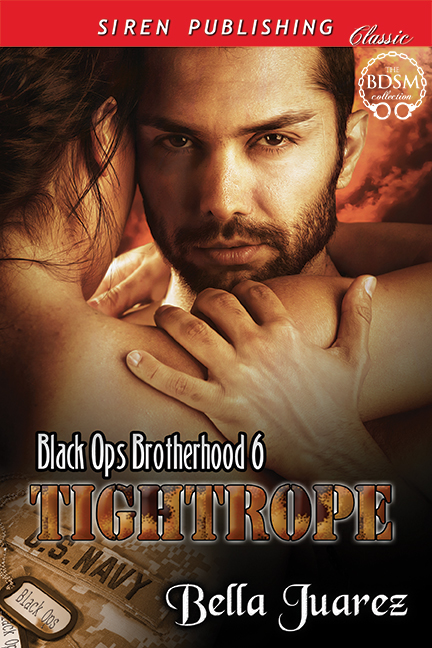 Navy SEAL Dan Gamez's plans for extended leave are derailed when he uncovers a plot targeting Homeland Security facilities monitoring illegal traffic along the United States-Mexican border. It's a doomsday-prepper's worst nightmare but it's a day in the life for Dan–until Rio crosses his path and old embers ignite new flames.
Border Patrol Agent Rio Jensen and her team of brush hogs have their hands full stopping the illegal traffic pouring across the US-Mexican border. The last thing she needs is more complications when an old high school crush shows up on her door step.
Dan has a secret he's never revealed to any lover. With alarming ease, the tiny but fiery CBP agent takes command of his heart. When Rio is targeted by a cartel with terroristic intent, Dan finds himself walking a tightrope to save the woman who understands and accepts him like no other.


Playlist for Tightrope

What Reviewers are Saying About Tightrope
Rating:
Reviewer: Alberta

Tightrope is a fast-paced mystery/love affair/adventure with Navy SEAL Dan coming to the rescue of his long time crush Rio, who is now a Border Patrol agent, as well as Rio coming to his rescue.

These two have known each other since childhood, but only now as mature adults with careers, do they come together in an explosive love. We find out Rio is a kickass woman, who loves to be in charge. We find Dan is an alpha male outside the bedroom, but with Rio, he is a sub/masochist, searching for the Domme he senses in Rio. They have to find their way through the BDSM world, while dodging drug dealers, mobsters, bad guys on both sides of the Mexico-U.S. border, and assorted life-threatening situations that keep you turning pages well into the night.

Juarez obviously knows her stuff in the drug war/people smuggling business, because the situations are truly scary, and once you finish this one at midnight, you won't be able to sleep either! The sex is pretty explosive and interesting when you see how their couple dynamic works. I also liked the settings, as this area is where I live and it's always a kick to read about places I'm familiar with.

Okay I will be the first to admit I love this series by Bella Juarez. So much that I was excited to read the next installment blurb unread. And then I learned it was about a Domme. Okay so not my thing but I must admit that Ms. Juarez made me forget just who controlled whom in Tightrope, the sixth installment of the Black Ops Brotherhood series. I honestly did not expect to find a SEAL willing to trust enough to give up control. But Ms. Juarez made it seem so natural for Dan. I am not sure it would have worked without his history with Rio but boy did this story work on several levels. Dan knew he needed something that only Rio could provide and boy did he top from below, just long enough for Rio to understand not only what she needed but what she could provide. This story was complex as Dan and Rio found their way even as they struggled to protect innocents. Ms. Juarez continued the overlying story arc and gave us the action we have come to expect even as she provided additional layers to characters we have seen before along with the new. This story was well written and full of emotional depth. I thoroughly enjoyed the journey Rio and Dan took to find what works for them, even as it was unexpected. This story is well worth not only your time but also your money.
Five Shooting Stars

What Readers are Saying About Tightrope

"The best Domme book I've ever read. Rio is not the typical Domme you see in most books. She is vulnerable and all womanly. She has her insecurities just like the rest of us women. Dan is totally alpha male all the way. Strong Navy SEAL to the core. He just needs to submit to one woman. You can tell Bella knows what she is talking about. It's from her heart. If you have ever been cautious to read a Domme book don't be with this one. You will see the difference right away. Not to mention the continuing saga of the Black Ops Brotherhood men in their quest to keep America safe."

This reviewer's rating: 5 – Outstanding